Mommy Got Boobs presents: Sienna West plays with husbands friend big cock at the dinner table
Scene Title: Blast from the Past
Storyline: Sienna's sugar daddy husband brings Jarod Diamond, a fellow co-worker, home for dinner. Turns out Sienna already knew Jarod from a previous fling. She makes it obvious she wants to fuck him again... After dinner plans are cancelled due to a phone call from work, Sienna's husband leaves with Jarod to solve the problems. Craving those huge tits, Jarod makes an excuse and comes back to give Sienna what she wants.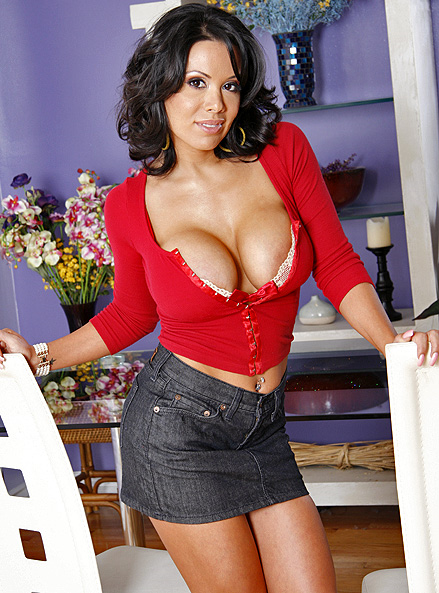 MommyGotBoobs Sienna West HD Video Trailer
What people are saying about: Sienna West - Blast from the Past mommygotboobs episode
Comment #1
Watching Sienna play footsie with this guy's rod is a huge turn-on. She looks gorgeous in that low-cut blouse with her ample cleavage just hanging out everywhere.
Comment #2
This is the absolute best video I have seen and I have seen my share. The chemistry between those two was so hot. It really was like they were old lovers reunited. It wasn't just a wham bam it had great emotion and didn't seem rehearsed or poorly acted out. It was so hot.
Comment #3
"That's my girl. I love her and could watch her read a book...she is perfect! " fuck ya.......LMAO ...those are my sentiments exactly.what a fucken babe! i love the way she CUMS on a dick.....theres a scene on brazzers where she CUMS 4 times....fucken awesome! keep her cuming back!
Comment #4
Sienna looked great bustin out of that top, and the setup was good acted well by all parties. I also must say I love her as a redhead, but the black hair comes in a close second with the way it was stiled, because she looked really good with that look. I wouldn't say she's "toned", but her midsection is definitely looking smaller from her last scene with Ramon. All that being said, her perfomance is still lacking. Dick sucking is still below average and the sex was yawn-inducing as usual. At least dude came with a nice $$ shot. And for those that don't know, the old dude is Dick Nasty - a porn legend in his own right. He has definitely gotten more than his share in his day :)
Comment #5
This is one sexy outfit on one of my favorite models! Redhead or brunette - Sienna is one hot and sexy lady! One of my favorite shoots so far of her - or anyone!
MommyGotBoobs Sienna West Picture Gallery