Mommy Got Boobs presents: Austin and Janet wants the Chefs Sausage in their mouths
Scene Title: Bad Date turned Great!
Storyline: Austin and Janet are on a date, well if you want to call it that. Their dates seem to be more preoccupied with themselves than with them. So the two excuse themselves to go powder their noses and get a lil frisky in the bathroom as well. Hot milf on milf action not be missed. Then the two sexy MILFs get really horny and decide they need a young man with a hard cock!Austin and Janet start to tease the waiter Johnny while sitting at the table. Teasing then turned into a hot threesome with two sexy, busty MILFs.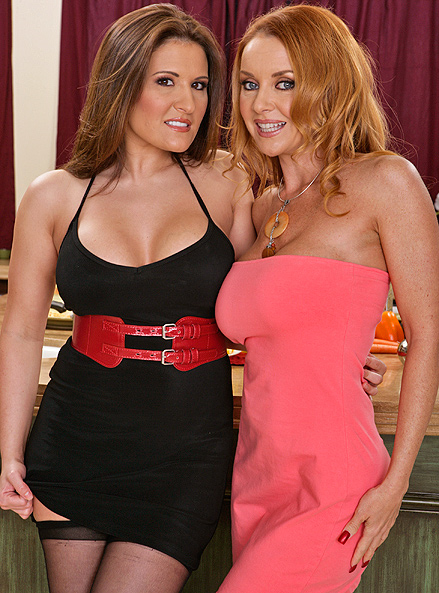 MommyGotBoobs Austin Kincaid and Janet Mason HD Video Trailer
What people are saying about: Austin Kincaid and Janet Mason - Bad Date turned Great! mommygotboobs episode
Comment #1
Great scene! Austin and Janet are sooo sexy, so well endowed. They do a great job on the chef! Super look when they are working on his tool! The two women are 10s!!!!
Comment #2
A beautiful, brilliant, fun scene. Everything about it was superb: a good, funny story with some quality visual and verbal gags; a great setting; and superb acting and sexual performances from all three protagonists. This was my first with Janet Mason - what a gorgeous babe! Very pretty, with a fab body. And as for Austin Kincaid! There is just something so special about her; I could never tire of her. She's so sexy and classy, and always comes across as a really nice lady. Johnny is excellent, and utilises both these gorgeous women brilliantly, and they all work so well together. A really memorable mommy got boobs scene - one of the best straight M/F/F ever - I just wish it could have gone on longer. Thanks to all involved!
Comment #3
This was off the charts. Great setup, script, production, and sex. Great little throw-in with Johnny walking in on them fooling around. Janet Mason's "acting" and fucking ability along with that ridiculous body are putting her at the top of the "Milf" game right now, and Austin's been doing her thing for years. This was hot all the way through, great camerawork too. Awesome mommy got boobs scene ZZ
Comment #4
If you're looking for an entertaining story-line and a chuckle on the side...this scene is very well done. Two clueless tools paired with two tantalizing sex machines and one lucky well-endowed chef equals a quality story. As for the sex...an awesome fantasy, a scorchingly hot pair of women and a cool finish; but...the energy and intensity are far from the best performances by Austin, Janet and Johnny. A great mommygotboobs scene all in all...but similar to the wine, not top shelf.
Comment #5
These two ladies made a perfect match cause they actually try to act. At first I thought it was gonna be like the Julia Ann/Ramon scene or Victoria Valentino/Major Stud scene. Instead this story was really good with them getting caught in the bathroom. Returning to dinner and still being ignored left them no choice. Loved the below shot when Janet was giving the bowl of head. Austin had got that wrist action down. She must of been a baker in a past life. I thought Austin was gonna explode like a volcano when Johnny first stuck it in. I was hoping to see cowgirl be either chick cause they both have sweet asses but it's about the boobs. Austin was ready to blast into orbit when she climbed on that rocket. That was some excellent titfucking action at the start too. I was hoping Johnny would fuck her Janet harder in doggy. Still A fucking plus. Snoogans!
MommyGotBoobs Austin Kincaid and Janet Mason Picture Gallery