Mommy Got Boobs presents: Abby and Austin hook up with big cocked man from the internet
Scene Title: Only at Facebreast
Storyline: Austin tells Abby about a new website she found, facebreast.com. Abby makes an account and meets a guy online. The guy loves her breasts so much that he wants to meet up with her at a hotel. Abby is kind of scared a little so she brings Austin along with her. They meet and then fuck like they've never fucked before. These two huge breasted bitches havenít been fucked by a dick this big in ages.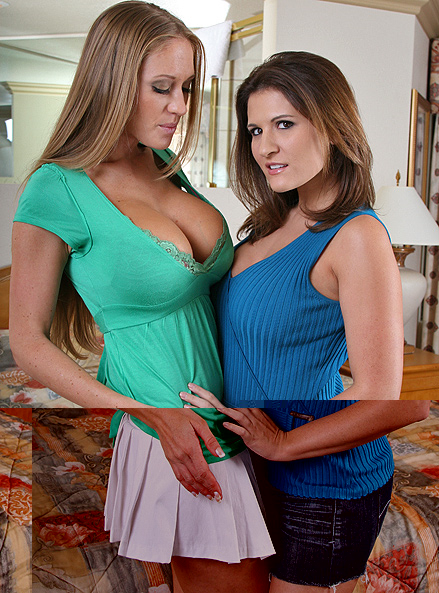 MommyGotBoobs Austin Kincaid and Abby Rode HD Video Trailer
What people are saying about: Austin Kincaid and Abby Rode - Only at Facebreast mommygotboobs episode
Comment #1
If you are a fan of the gorgeous Austin Kincaid and Abby Rode (I most certainly am), you won't go wrong with this hot scene. The two sexy babes use Voodoo and his massive cock for their pleasure, and Voodoo performs very well, too. Just imagine having a liason with Abby and Austin in a hotel room...could life get any better? Answers on a postcard, please.
Comment #2
Abby is my absolute favorite!!! She could be here every week! Austin is also high on my favorites, so this one goes to the top of my list! Abby has such a hot body and is soooo sexy. The two of them together just makes a hot flick! Bring them back again and again!
Comment #3
This was phenominal. It was a total fantasy scenario acted out perfectly. The sensual teasing by the girls in the beginning was dumb hot, and you couldn't have picked a sexier combination. Austin was and continues to be one of the hottest in the game, and Abby is working her way up there. I have yet to see a bad perfomance from her. Whether it be here or anywhere else, she's always on point with her dirt-talk and her fucking. As usual, my favorite postition was the stack. Excellent scene.
Comment #4
Excellent scene! The last 2 scenes with Abby are the best I've ever seen her in, she looks amazing and fucks with even more energy. Austin is one of my favorites on brazzers, but she got outfucked in this scene by Abby. Still both were looking extremely hot and sexy. Voodoo delivered a good performance and a nice facial at the end
Comment #5
Damn best scene in a while and one of the few where both ladies were actually hot instead of 1 hot and 1 not. Great job ZZ was about to drop you guys but your actually getting the hotties back on set. THANK YOU!!!!
MommyGotBoobs Austin Kincaid and Abby Rode Picture Gallery