Mommy Got Boobs presents: Black Haired Whore Sheila Marie sees how much cock her pussy can stuff
Scene Title: Milf Next Door
Storyline: We've noticed lately that one of our neighbours, Sheila Marie, keeps trying to find excuses to come over. She keeps asking for coffee or sugar but we all know what she really wants. Turns out we were right, and this busty milf only wanted a little attention from the young guys! Luckily Derek is really into milfs...what an opportunity!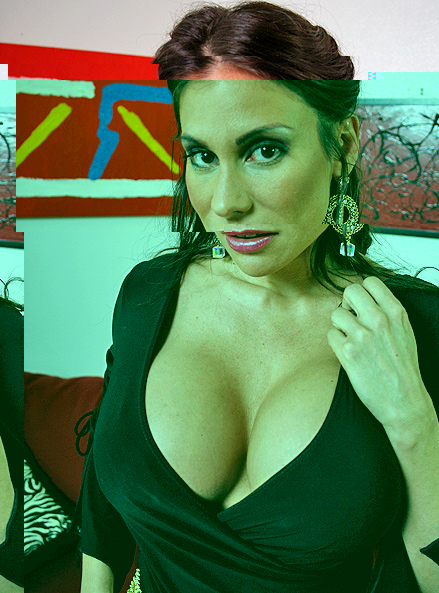 MommyGotBoobs Sheila Marie Picture Gallery
What people are saying about: Sheila Marie - Milf Next Door mommygotboobs episode
Comment #1
Same boering stuff. Sheila is a very sexy woman, but has not enough personality to lift this when the producer lacks fantasy. Only the last scene is adequate standard.
Comment #2
Yes she is def hot!!! to look at, a nice ass and has the the look, but she is such a poor fuck....real disappointment. Looking at her you would think she would be good but she never performs well and her voice sounds stupid and not convincing enough, not like other stars.
Comment #3
Nice Video! I have to agree that this was not one of the most exciting videos but... physically...she is one of the best built girls on this site. I am close to saying the best built even with the "silly" cone titties! I love that bushy pussy, it looks like an Afro!!! And I love that hooting sound she makes when that pipe is pounding that twat! This is the first time I seen her! I'll check her out at "bigtitsatwork"!
Comment #4
I never watched a whole video all the way through here, EVER!!! But with this model, it was a FIRST!!! I think I'm in love, or need therapy. KEEP IT UP GUYS!!!!
Comment #5
What does everyone see that I don't? She's nice to look at, but it stops there. Either she's the worst actor EVER or borderline retarded. And she is THE MOST BORING girl on this site! At least ATTEMPT to fake it! Shit, man...