Mommy Got Boobs presents: Miss Sights manipulates her boy toy into blowing a big load on her face
Scene Title: Mominatrix
Storyline: Shay and her daughter live together at home. When her daughter invites her boyfriend Johnny over he can't help to wonder what her mother's into, when he over hears whipping and screaming coming from the other room. Johnny decides to sneak away while he's girlfriend is sleeping to see where all the screaming is coming from. A little scared and curious he wanders into the moms secret room and to his surprise finds her collection of BDSM toys and machines, which she violently tries on him.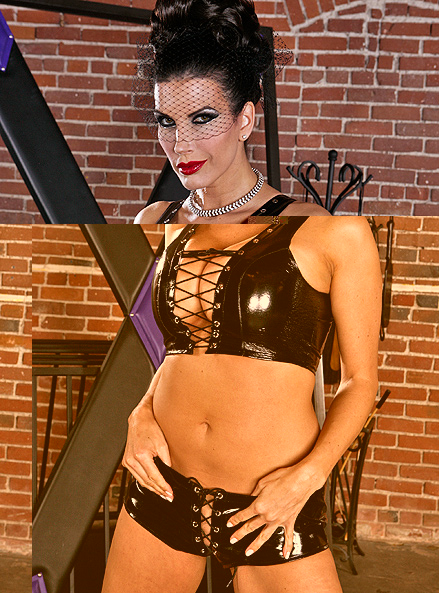 MommyGotBoobs Shay Sights HD Video Trailer
What people are saying about: Shay Sights - Mominatrix mommygotboobs episode
Comment #1
All that was needed was a ball-gag and some hairpulling during the standup doggie scene. Very impressive oral skills........by Shay I mean.
Comment #2
I'm so mad at myself for waiting so long to view this. I never knew that Shay had it in her like that. She reminded me of Marcia Cross characters from Desperate Housewives being all suzie homemaker then to Melrose Place character of dark and sinister. I wish we never saw her and just stayed with the screams and moans. So before Johnny leaves he gets all nosey. Once again kudos on the deep throat. I couldn't get enough of the sex. I never wanted it to stop. The ending was so money. It's hard for me to believe that ZZ actually got a set made for this scene. If I didn't know any better, I would think that someone already had those sex structures in the house. Snoogans!
Comment #3
This mommy got boobs scene was awesome. There are very few things HOTTER than a Female Pornstar tied up and fucked hard. This mommy got boobs scene was awesome Brazzers. Keep them cuming. If I had walked in there and I found Shay dressed like that and chaind up I would have fucked her til my dick hurt
Comment #4
Holy Moly! Worth the wait! Shay is one of my favorites and she continues to perform at a very high level. I know she did 4 scenes with you guys, but judging by the reaction here, you better run after her with pen in hand!
Comment #5
Your twenty-something pornstars could learn lots looking at Shay Sight's scenes. This oh so sexy soon to be 34 year old MILF is on my top 10 favorites list. I'd get a massive hard on looking at a picture of this woman wearing a floor length burlap sack. You can't provide enough of her scenes to satisfy me.
MommyGotBoobs Shay Sights Picture Gallery