Mommy Got Boobs presents: Big titted mommy Sexy Vanessa getting her pussy fucked
Scene Title: Friends Busty Mom
Storyline: Joe invited us over to his friends place because he knows that his friend's mom is home alone. After we finally get inside, we interview this busty Latin mommy...wow, was this woman horny or what!!! She told us all about how much she craves young cock and was practically begging for Joe to fuck the shit out of her...and did he ever! Looks like our plan went off without a hitch as Joe blew his load all over those huge busty DD's...it was almost too easy ;)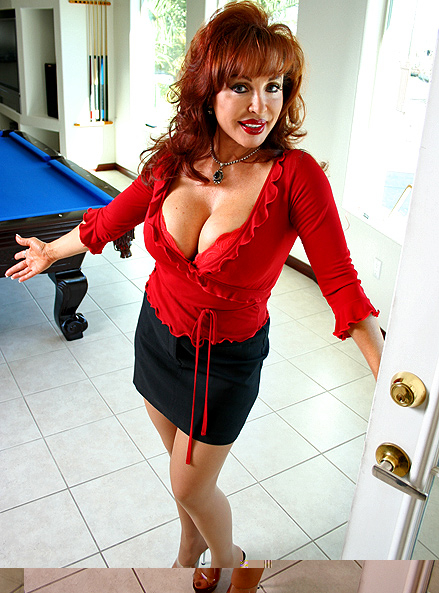 MommyGotBoobs Sexy Vanessa Picture Gallery
What people are saying about: Sexy Vanessa - Friends Busty Mom mommygotboobs episode
Comment #1
Vannessa if fucking hot!!!!!!!!!!!!!!!!!!!!!!!!!!!!!!!!!!!!!!!!!!!!! We need more scenes. I love the fact that she keeps her clothes and heels on. Hot!!!!!!!!!!!!!!!!!!!!!!!!!!!
Comment #2
We need Sexy Vanessa back and soon!! Love those stockings and high heels!!!
Comment #3
Vanessa bent over a sofa tits out, skirt hiked up, dressed in stockings and heels being fucked from behind. Perfect.
Comment #4
Vanessa: Don't forget the guy that shot that clip is going to sell it. These are the scenarios that will follow: 1. Your son will see the clip at a Toga party! 2. Your son will return home curse you out and cry. 3. Your son will grant you a new name, "bitch"! 4. Your son will kick your lover's ass. 5. Your son will hate you forever! 6. Your hubby will see the clip from this photograher trying to blackmail him. 7. Your hubby will come home. 8. Your face will look like Mike Tyson's after he kicks you ass. 9. Your husband will shield most of his financial assets. 10. Your divorce settlement will be funky!!! 11. The judge will side with hubby, you will get peanuts 12. You next home will be at the local shelter! 13. You will turn into a street trick!
Comment #5
Vanessa is THE milf, and, yeah, if you want fake milf's in their 20's, she's not for you, Steve-o...........As for the rest of us, can't get enough of her.