Mommy Got Boobs presents: Ricki Raxxx in Nothin Gets a Broad Wetter Then a Shower Curtain scene
Scene Title: Nothin Gets a Broad Wetter Then a Shower Curtain
Storyline: It's Ricki's birthday and before she blows out the candles on her cake, she makes a wish. Now you can make many assumptions as to what that wish may be, but why waste your time. I'll just tell you. I wouldn't want you to lose sleep over it or ponder it over spaghetti supper. Time is precious and if you don't stop and look around sometimes, life will pass you by. You have to get out there and live your life for the moment. Carpe diem. But I digress. Her wish is to fuck Danny Mountain.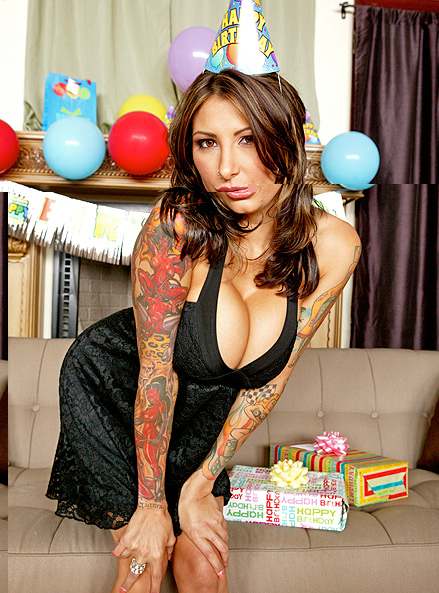 MommyGotBoobs Ricki Raxxx HD Video Trailer
What people are saying about: Ricki Raxxx - Nothin Gets a Broad Wetter Then a Shower Curtain mommygotboobs episode
Comment #1
lol the son is older then the mom hes what 35?
Comment #2
I cannot stop jerking off thanks to Ricki Raxxx. Ricki's son reminds me of Franklin, he would rather be playing video games on a Saturday! Ricki as the MILF is so fucking hot my balls are percolating with cum. Ricki: "Do you like these tits?" FUCK YEAH!!! I shot mega loads!!! Great mommy got boobs scene! More Ricki Raxxx ZZ!!!!
Comment #3
Fuckin incredible, but whats the song in this????
Comment #4
Jesus fucking Christ. Can't you idiots stop whining about the fucking HD content. It even says that shit's not available, so how the fuck are you expecting to d/l it anyways?
Comment #5
well TDUB512 some of us do have the hd download content available. This happens when you are considered an elite member but that is mentioned on the home page (idiot), and i also am not able to download this video in HD. I also cannot view it in HD. i do not have any issues with any of the other HD content. seems that the HD file may be corrupted. when trying to download this file with a download manager i get the error: Request Range Not Satisfiable. When using windows to download i get a 0byte file. When trying to view it via the web page it stops streaming the content after a few minutes but the progress bar keeps moving. Again, i have no issues with any of the other HD files