Mommy Got Boobs presents: Miss Benton gets fucked hard by her sons friend
Scene Title: Getting Lucky With Lucky
Storyline: Doug and his buddy Will recently moved to the city to pursue their college studies. Unannounced, Doug's mother Lucky decides to pass by and help out with the cleaning and the groceries. Lucky's presence makes Will feel uncomfortable because she is so hot and extra friendly.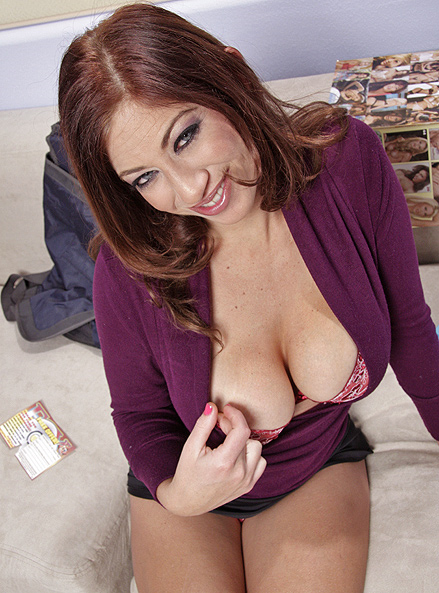 MommyGotBoobs Lucky Benton HD Video Trailer
What people are saying about: Lucky Benton - Getting Lucky With Lucky mommygotboobs episode
Comment #1
Lucky is absolutely the most gorgeous, voluptuous woman I have ever seen. Need lots more scenes with her seducing the unsuspecting male
Comment #2
Great mommy got boobs scene! I love Lucky. She's really put together well (tight body, big tits, and a pretty face) and seems to enjoy what she's doing. I would love to see more of her!
Comment #3
U know, Lucky has such a great look to her, with her body, tremendous juggs and her exotic face, but I can't get over her smiling and giggling the whole time, it's just not sexy. Maybe it has something to do with her possible "assistance" before shooting? idk but I hope it changes. The setup, the great postions, and this new cat were all good
Comment #4
I cannot stop jacking off to this mommy got boobs scene. My stiff long cock is the real Lucky one! Look at how big her big ass titties are!!! I got pre-cum as soon as Lucky started wiggling her panty clad ass at Will! Sucking on Luckys tits: "that feels good! you like that? that turn you on? they're nice and big, huh?!" Can I have that Brazzers t-shirt on the couch?! I wanna fuck the shit out of Lucky Benton!!! Hard not to cum in wheelbarrow position when she says, "lets go for a walk, keep up with me!" Thanks for the super, mega, gigantic cumshot Lucky!!! WOW!!!
Comment #5
First thing is to sign Will Steiger to a contract. He's got the young look for BT@S. Plus he has a yummy body and nice cock. When I saw her last scene I thought she may have been slightly tipsy. I do believe her name is actually Happy Go Lucky Benton. I was eating up every bit of this scene. Just watching all the positions and hearing the lessons was making so wet. Also when she was getting plowed, did she sound like Edith Bunker singing? I loved watching her ride on the tip of his cock. Walking the dog was the best straight into the wheel barrel. The only thing that needs some work is that cumshot. Snoogans!
MommyGotBoobs Lucky Benton Picture Gallery