Mommy Got Boobs presents: Karrlie Dawn fucks her rescuer from public nudity
Scene Title: Locked Out!
Storyline: Karrlie is in the shower when she hears the doorbell ring. She gets out of the shower and walks to the front door. She sees a package waiting for her. As she walks out of the house she looses her towel and decides to hurry and pick up the package anyway. Unfortunately the door locks behind her!She panics as she is completely locked out. Thank goodness her neighbor is around to help her out in a big way.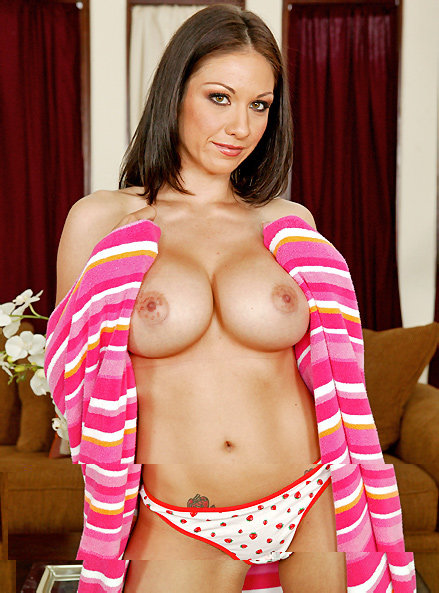 MommyGotBoobs Karrlie Dawn HD Video Trailer
What people are saying about: Karrlie Dawn - Locked Out! mommygotboobs episode
Comment #1
This is one sexy woman. From her her hot face, to those suckable tits and hot ass, Karrlie Dawn is awesome. To top it off, she talks dirty. The best part of the mommy got boobs scene is when she starts to masturbate in the shower after hot sex.
Comment #2
Karrlie could have easily done this setup without lines. No excuse for acting being that bad when this could naturally happen. Why couldn't the towel have been trapped when the door shuts as she's reaching for the package? Anyways I was expecting more from her this time. Either Keiran wouldn't give her some control or she didn't want it. Even though he folded her twice like a lawn chair for mish. Everything was the standard slaughtered up pussy by Mr Lee. He causes havoc in the pussy just like he should. The facial was well placed. The ending wasn't bad but if you she's gonna be in the shower. Why not get wet since she already had cum on her? Snoogans!
Comment #3
Kieran said,"Truly amazing tits" and I agree. Karrlie asked for cum on her face and she got a huge load from eye to neck. Bring her back!
Comment #4
nice pop shot. just wish there was regular cowgirl to see that nice ass
Comment #5
Karrlie can do no wrong in my eyes!
MommyGotBoobs Karrlie Dawn Picture Gallery