Mommy Got Boobs presents: Francesca Le and Shawna Lenee in Gold Diggin' & Friggin' scene
Scene Title: Gold Diggin' & Friggin'
Storyline: When it comes to gold digging, Shawna is at the top of her game. Using her vast array of techniques, she has landed a millionaire named Scott. Much to Shawna's irritation, Scott has a thing for MILFs. Fortunately, Shawna has a fellow gold digging accomplice named Francesca who fits the bill perfectly. Will this diggin' duo bail him out of his pocket book? Flip out your dick and find out.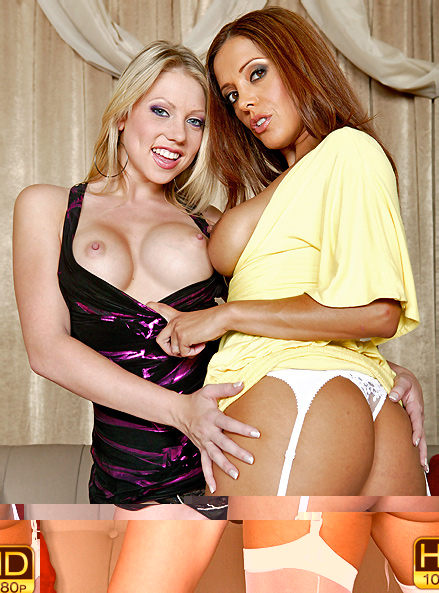 MommyGotBoobs Francesca Le and Shawna Lenee HD Video Trailer
What people are saying about: Francesca Le and Shawna Lenee - Gold Diggin' & Friggin' mommygotboobs episode
Comment #1
Wow these two are simply ravishing to look at. No one runs the triangle quite like Francesca. This makes her second threesome that's been off the hook. The extended amount of fellatio was nothing short of stellar. I believe this should have been on of those times where Scott pulls the thong to the side. Just made the stockings useless once he pulled it all off. The cowgirl was excellent. Reverse cowgirl was special cause of Shawna out in front. Good amount of pounding going on in piledriver. The second go at doggy was just as hot as the first time. Then he just spoon fed Shawna to the finish. Two blazing hot chicks and Scott put together a smokin scene. Snoogans!
Comment #2
Francesca not doing anal is like a day without sunshine. Anyway it's still a pretty hot mommy got boobs scene, but with a legend like Francesca there you really don't need the other girl at all, she's cute but she can't compare so she ends up just stealing camera time from the legend that 90% of us want to see.
Comment #3
what's up with the focus problem lately? camera guy not know how to use that new hi-res camera? lets jerk up on it, pull your self together!
Comment #4
OMG! "SHAMWOW!! One of the best 3some scenes Ive seen.Even my girlfriend was impressed. Excellent fucking and sucking all around. Great combination with Shawna and Francesca. Francesca got one of the best set of meat curtains in porn!!!!
Comment #5
What the fuck again, two girls and he has to jerk him self off? Why did he have to take off the panty hose, shoes and garter belt? That looked realy good!