Mommy Got Boobs presents: Devon fucks her soon to be ex husband one last time
Scene Title: Just Like Old Times
Storyline: Devon Michaels' soon-to-be ex-husband Zeb Atlas pops up at their house with his new teenie girlfriend for a lover's weekend. Little did he know Devon was gonna be there with no plans of leaving. She agrees to be silent as a mouse... When things start heating up at the poolside, Zeb starts craving Devon's huge knockers. When his girlfriend leaves to prepare some drinks, Devon and Zeb start going at it, just like old times!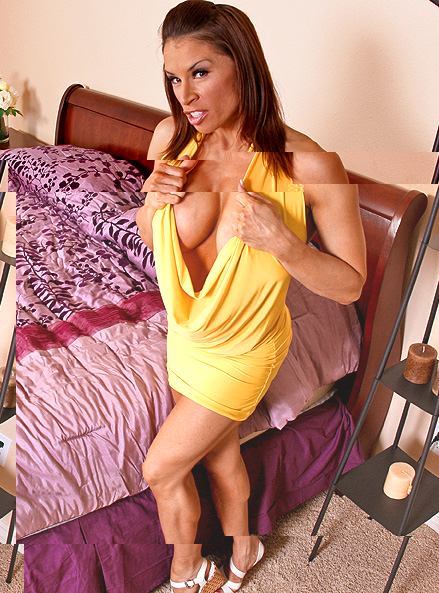 MommyGotBoobs Devon Michaels HD Video Trailer
What people are saying about: Devon Michaels - Just Like Old Times mommygotboobs episode
Comment #1
I love Devon and she is totally sexy, but this was weird to watch; it was awkward watching 2 naked juice-monkeys go at it with all those protruding muscles. Plus husband/wife sex? There's no fantasy in that. It would have been better if he played the bf of Hailey, who would have been daughter of Devon, then there could have been a different dialogue. This Zeb dude is kinda whack, especially with all his grunting and wailing during the foreplay outside. Don't ever pair him with Priya Rai to spare us some awful vocals.
Comment #2
One of Devon's best scenes to date!!! I love how she rode and the doggy was hot too!!! I could do away with the breast implants, her toned sexy body is good enough for me...too many girls have fake titties...lets start a revolution against them!!!
Comment #3
Lol....funny lookin story. Good to see more Devon. Zebs body is nuts.
Comment #4
devon michaels one of my all time favs. I'd love for her to be my personal trainer
Comment #5
I can't wait for this scene. I love when the vixen steals the other girls man. you guys are the best at that. Those type scenes are the reason I subscribe to Brazzers.
MommyGotBoobs Devon Michaels Picture Gallery