Mommy Got Boobs presents: Ava and Ana tagteam a huge cock at home
Scene Title: A quick clean up.
Storyline: Ava Devine was tired of her son being late for school but she didn't mind if his friend Criss stayed behind to sober up after a couple beers. Next thing he knows he's in the house alone with a hot ass maid. The worst thing is that Ava caught them in the act and was jealous, so she insisted joining them. With the flip of a coin this situation turned in to a hot and sexy anal party...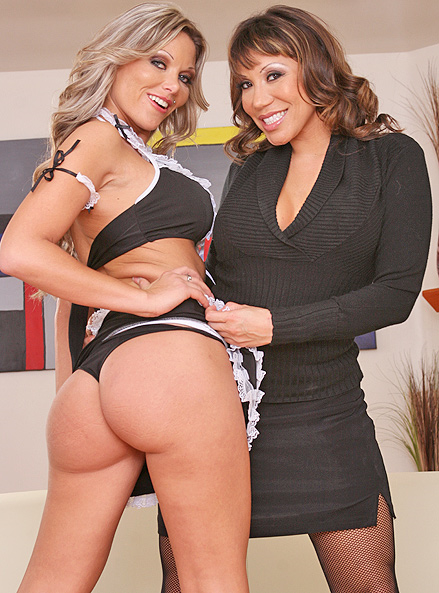 MommyGotBoobs Ana Nova and Ava Devine HD Video Trailer
What people are saying about: Ana Nova and Ava Devine - A quick clean up. mommygotboobs episode
Comment #1
Ana Nova is the best pornstar ever! , please more scene of Ana
Comment #2
With these two, worthy of 10 stars. Ana is awesome, and Ava is a goddess.
Comment #3
2 dirty wet slut coutgh in a cum rain under a three, except 4 the sound, going practicly innodible that you cant now what they say to screeming so loudh that your neihber think you murder somebody, that a real good scene 4 crasy sex addict bitch lovers. Just listen and whatch you cant think at other thing than FUCK FUCK FUCK!!!! till you cum like crazy. No wounder the scene finish in a non-stop cum spraying shower all over the place.
Comment #4
Wow... I thought it was great. Ava's energy and nasty dialog was great. I may be a little biased as I've met her through a mutual friend and have been with her thrice. She is ablast in person and even sweeter than sexual, if possible. Ana is just plain hot. She followed her MILF boss's orders as any good maid should.
Comment #5
I think the mommy got boobs scene was great - Ava always gives 110% - it may not be everyone's cup of tea but she is a top performer. I expect since she had her breasts reduced, due to surgery malpractice, she has some pretty meaty scars - I guess that is why the bra stays on! I have seen those two before in 'Juggernauts' and they were just as mental. I think it was a top job - light-hearted and fun. I loved the anal - more more more.....
MommyGotBoobs Ana Nova and Ava Devine Picture Gallery